The RawD Trip summer school brings the young people and the experts in the mining field to Cracow – an important mining area of ESEE Region. The summer school offers master and bachelor students a unique opportunity to acquaint themselves with various elements of the Raw Materials value chain: from mining through processing and products use to the production of waste, their recycling and reuse. The summer school is based on copper ore as the basic raw material in high-tech. The gained experience help to promote the students community among various universities and provide the possibility to create interaction with companies of the sector. Moreover, the RawD Trip, in the long run, leads to create the companies map in ESEE countries.
RawD-Trip Summer School runs as the part of KIC Raw Materials Program under the patronage of Faculty o Mining and Geoengineering (AGH University). The leader is EIT RawMaterials - CLC East.
The aim is to focused on practical part aspects of knowledge. Therefore, after theoretical introduction, five days of the summer school will take place in Lower Silesia – a significant mining region. The leading theme of the pilot edition is COPPER. During the summer school there will be a chance to visit places at various stages of copper production - in plants owned by KGHM Polska Miedź S.A. - from mining excavations to the smelter and post-flotation tailings pond, up to the places where they were reclaimed and revitalized. In the second week, in Krakow will be an opportunity to get acquainted with copper products and aspects of copper waste management.
In addition, the possibilities of increasing copper recovery from wastes would be consider and also the possibility of using new business models in the metal trade, and how to limit the adverse impact of metals on the environment. An important aspect of the school will be examining business issues.
The main recruitment criteria are: completed semester of studies (the higher the better), the average of all semesters, organizational and publishing activity (including activities in scientific circles, lectures at student sessions), as well as a cover letter in which candidates will present motivation for participation in the summer school, regarding raw materials.
History of Cu
World Cu recourse
European Cu resources
Cu –mining technologies
Cu processing and metallurgy
Reclamation and rehabilitation of old sites related to Cu industry
Cu in environment (contamination of water, soill, risks)
Cu recycling
Cu uses
The topics deal with COPPER:
geology

processing

metallurgy

products

recycling

business
What is it?
RawD Trip is a travelling summer school where accepted master students coming from studies of the raw material value chain all over from Eastern and Southern Eastern Europe (ESEE region) bring together and visiting industrial sites of one selected raw material (in 2019 its copper) while studying about its importance and business and market relevance, technical topics and solving industry challenges together. RawD Trip students will learn specific leadership skills and has the opportunity to become EIT RawMaterials Alumni
Who is it for?
If you are an enrolled (active) master student at any of the universities located in the RIS regions* (Especially in the ESEE region) and you are citizen of one of these countries, studying in geology, mining, mineral processing, metallurgy, recycling, environmental sciences, material sciences related Master courses you are entitled to apply.
You are the right candidate if you have good grades, open minded and eager to learn more about hte copper value chain and its economic inportance and relevance while would like to develop leadership skils and meet fellow students all over europe. Students applications will be evaluated by a selection committee based on the following criteria:
The average grade for the semesters of completed studies
No of completed semester
Activity as research authorship, scientific clup membership, student chapters etc...
Motivation
*Eligible Countries are:
Bulgaria, Croatia, Cyprus, Czech Republic, Estonia, Greece, Hungary, Latvia, Lithuania, Malta, Poland, Slovakia, Slovenia, Romania
Where will it take place?Academic field
The RawD Trip summer school program will take place in Poland, starting in Cracow during the time period of 2-13th September, 2019.
How much does it cost?
RawD Trip summer school program is offered free of cost for all selected students, in addition selected students are entitled for a 500 EUR scholarship (in case they do not get any other European scholarships n the meanwhile) and the travel, accommodation and meals are covered by the organisers. Students are requested to sign an agreement at the last day of the RawD trip summer school and get the scholarship after the event.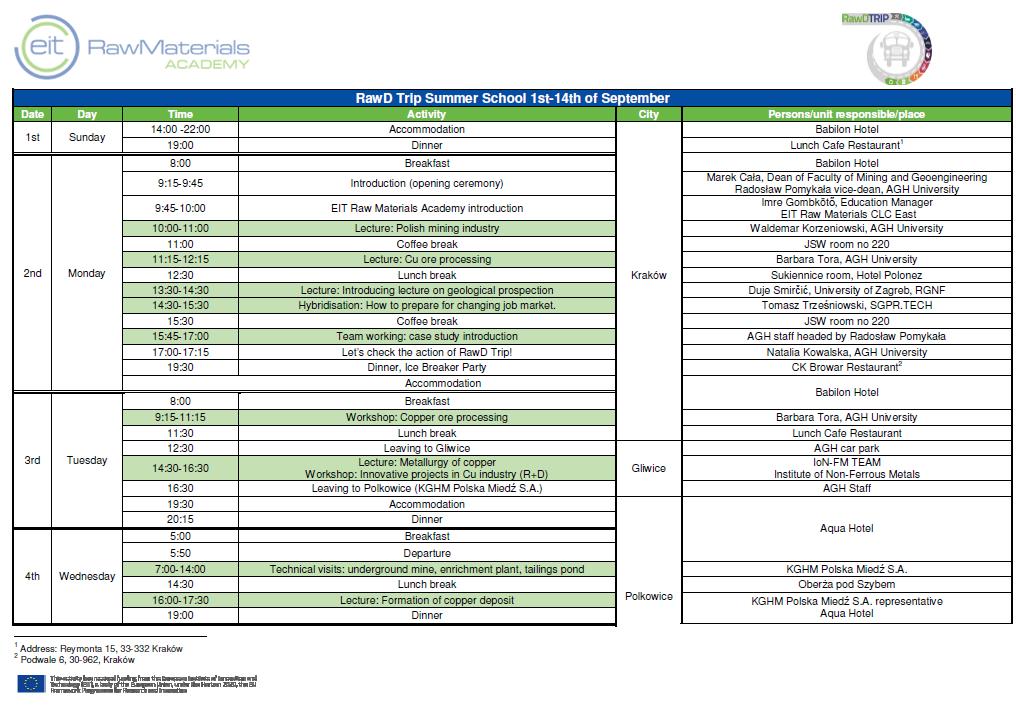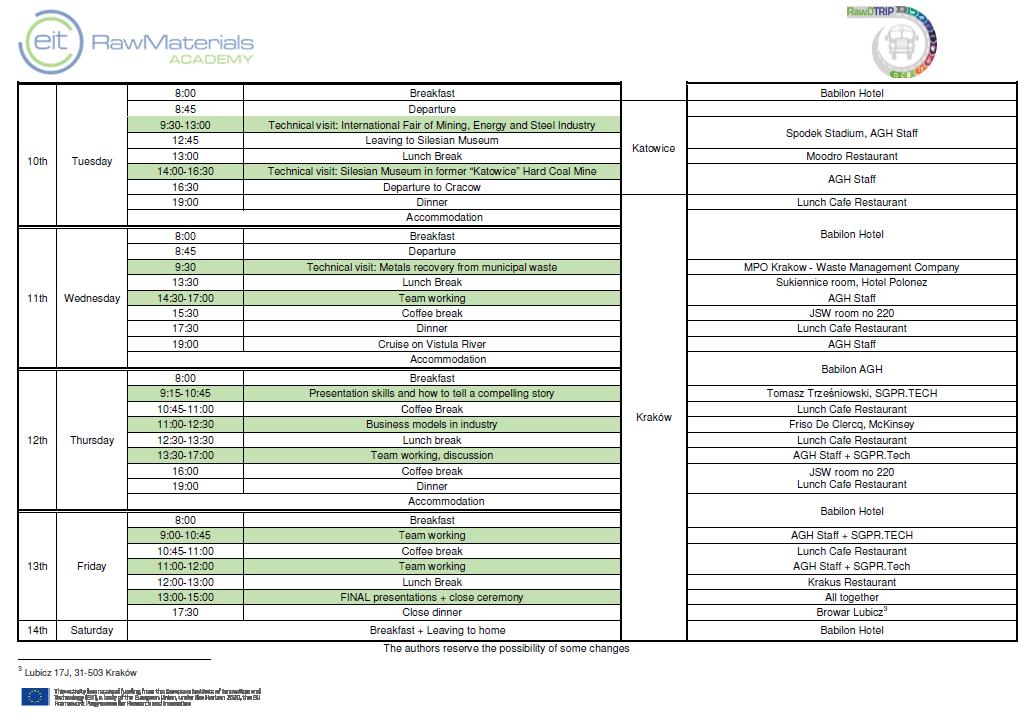 Because of limited capacity, we are only able to accept max 40 participant to participate in rawD Trip program. To apply, register here:
Once registration has closed, all applications will be reviewed by the RawD Trip selection committee; maximum 40 students can be selected in total. Students will be selected i) The average grade for the semesters of completed studies; ii) No of completed semester; iii) activity as research authorship, scientific clup membership, student chapters etc... iv) Motivation
Those who are selected will be informed until First week of August 2019. Selected students will then receive next steps, including all necesseary information to start the summer school.
Steering committee
Imre Gombkötő, Education Manage,EIT RawMaterials - CLC East
Radosław Pomykała, AGH University of Science and Technology
Sibila Borojević Šoštarić, University of Zagreb – Faculty of Mining, Geology and Petroleum Engineering (UNIZG-RGNF)
Ulrike Haslinger, Montanuniversität Leoben (MUL)
Anja Meier, Montanuniversitaet Leoben (MUL)
Katerina Adam, National Technical University of Athens (NTUA)
Ferenc Madai, University of Miskolc, (UoM)
Jana Šmihulová, Technical University of Kosice, (TUC)
Armida Torreggiani, Consiglio Nazionale delle Ricerche (CNR)
Kathrin Häußler, Technische Universität Bergakademie Freiberg (TUBAF)
Organizing committee
Radosław Pomykała, AGH University
Natalia Kowalska, AGH University
Paweł Kamiński, AGH University